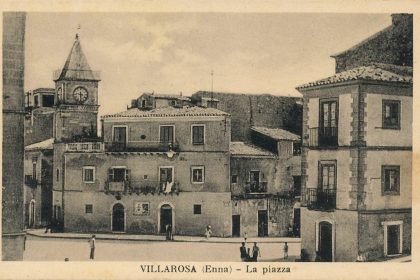 In this article we provide some brief notes on the foundation of Villarosa, as well as the list of the surnames of the families residing there in 1748.
Villarosa is a town in the province of Enna, Sicily, located in the region of the Erei mountains at an altitude of 523 meters. Its territory, bordered by the Salso and Morello rivers, has been inhabited since ancient times: in fact, recent archaeological excavations on nearby Mount Giurfo have returned finds dating back to the eighth century b.C.
In the Middle Ages the hamlet of Bombunetto or Bombinetto was built here, documented with certainty since 1298. From the 14th century it belonged to the Petroso family of Castrogiovanni; in 1407 Manfredi Petroso sold a part of the fiefdom to Nicolò Anzisa of Calascibetta. In 1446 the fiefdom was in the possession of Bartolomeo Petroso, gransdon of Manfredi, who in 1453 obtained the investiture of the fief of Bombinetto, with the title of Baron.
Finally in 1674 Francesco Petroso and Salazar sold to the noble Francesco Notarbartolo the barony of Bombinetto with an adjoining farmhouse. The farmhouse was already inhabited by a certain number of people, but the Licentia Populandi was granted only on 10 April 1762 to Placido Notarbartolo and Zati, who thus officially founded the new town of San Giacomo di Bombinetto (or Villarosa).
Initially, the foundation of the new town attracted numerous families from various surrounding villages. In the nineteenth century the exploitation of the various deposits of sulfur present in the area attracted a large workforce, but after the Second World War, due to the end of the mining activity, many inhabitants emigrated to northern Italy or abroad.
The surnames of Villarosa in 1748
According to the data reported in its first Rivelo (census), as early as 1748 in Villarosa there were 135 families for a total of 548 inhabitants (297 men and 251 women). Here are the surnames of the first inhabitants of Villarosa (reported according to their original form):
Abbate, Avanzato, Baglio, Barbiere, Barravecchia, Barruso, Barsalona, Bonomo, Bruno, Butera, Caccamo, Calabrese, Calzetta, Cammarata, Cancelliere, Cannella, Capizzi, Caramanna, Cardella, Cariota, Cassaro, Cataldo, Cerami, Chiovo, Cosentino, Costa, Costanza, D'Alù, D'Alvano, Di Forti, Di Gioia, Di Laira, Di Maira, Di Paola, Di Valenza, Di Vita, D'Orato, D'Oto, Falzone, Fasciana, Ferrara, Ferraro, Fontananza, Garfo, Giagno, Giannone, Giarrusso, Giordano, Giudice, Guarneri, Guastaferro, Ingola, Inguaggiato, Innuso, Ippolito, La Cagnina, La Grua, La Marca, La Quatra, La Tragna, Lauricella, La Valle, Lentini, Librizzi, Li Pani, Li Pomi, Li Ronti, Lombardi, Maira, Malatacca, Mamonte, Mangiaforti, Marino, Marotta, Mastrosimone, Mesandra, Milazzo, Miraglia, Orlando, Paisano, Palermo, Palmeri, Pecora, Pilato, Porrivecchio, Pulci, Randazzo, Restivo, Romano, Russo, Salvagio, Saporito, Scarantino, Scarpulla, Siracusa, Sollami, Spagnuolo, Speranza, Spinello, Stuppia, Talluto, Tumia, Viaggio.
If your family is also originally from Villarosa and you want to know its history, CONTACT US!
In conclusion, we offer you a gallery of ancient postcards of Villarosa: