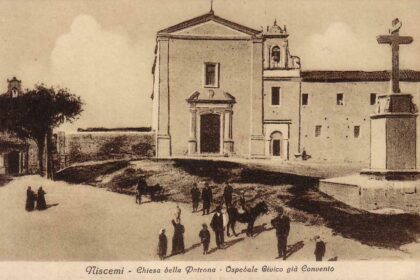 Niscemi is a town of 25639 inhabitants, located in the province of Caltanissetta. Its vast territory, inhabited since ancient times, in the Middle Ages was part of the county of Grassuliato (a castle-farmhouse a few kilometers from Mazzarino).
The Branciforti family, owner of this vast feudal domain, between the end of the sixteenth century and the early seventeenth century began the work of dismembering the fiefdom in order to derive greater profits from the census revenues.
According to an ancient tradition, on May 16, 1599 a shepherd named Andrea Armao found, in the woods in the Castellana district, an image of the Holy Mother with the blessing Child Jesus. The discovery took place near a source of water to which miraculous properties were soon attributed. The inhabitants of the area built a chapel in which they kept the image and dedicated it to the Madonna delle Grazie, who became the patroness of the nascent village.
Religious devotion and the possibility of being able to cultivate the land at advantageous conditions favored the immigration of new settlers, to the point that in 1626 Giovanna Branciforti, in the name and on behalf of her son Giuseppe Branciforti, made a formal request to King Philip IV to be able to found a new town in the fief of Niscemi. On 5 March 1626 Giovanna Branciforti paid the prescribed tax of 400 ounces and on 30 June of the same year she obtained the licentia populandi. On March 25, 1627, Giuseppe Branciforti was invested with the title of prince of Niscemi.
In 1636 the new village had a population of 350 inhabitants, but only starting from the Rivelo (census) of 1656 can we know the composition and origin of the individual families. In that year 159 families lived in Niscemi, for a total of 574 inhabitants.
The following list reports the surnames of the first families residing in Niscemi, with their place of origin. For more information, contact us.
Families residing in Niscemi in 1656, with their place of origin:
A
Aldesi – Gela (CL)
Aliotta – Caltagirone (CT)
Amodio – Caltagirone (CT)
Arena – Piazza Armerina (EN)
Aucellaro – Piazza Armerina (EN)
B
Barbara – Niscemi (CL)
Bellomo – Caltagirone (CT)
Bennici – Piazza Armerina (EN)
Blandino – Piazza Armerina (EN)
Blundo – Caltagirone (CT)
Bonello – Caltagirone (CT)
C
Cacciaguerra – Niscemi (CL)
Calati – Piazza Armerina (EN)
Camarda – Gela (CL)
Camiolo – Niscemi (CL)
Niscemi – Interno del Duomo
Camiolo – San Michele di Ganzaria (CT)
Campolino – Aidone (EN)
Caputo- Piazza Armerina (EN)
Carfì – Chiaramonte Gulfi (RG)
Castronovo – Aidone (EN)
Cipolla – Piazza Armerina (EN)
Collura – Aidone (EN)
Collura – Piazza Armerina (EN)
Coniglio – Niscemi (CL)
Consolo – San Michele di Ganzaria (CT)
Costa – San Michele di Ganzaria (CT)
Cozzo – Caltagirone (CT)
Cubo – Gela (CL)
Cutrera – Chiaramonte Gulfi (RG)
Cutrona – Caltagirone (CT)
D
D'Agostino – Caltagirone (CT)
Daidone- Agira (EN)
D'Alessandro – Caltagirone (CT)
D'Alessio – Chiaramonte Gulfi (RG)
D'Ancona – Caltagirone (CT)
D'Atterno – Caltagirone (CT)
D'Evola – Aidone (EN)
Di Bartolomeo – Mineo (CT)
Di Bartolomeo – Monterosso Almo (RG)
Di Bernardo – Caltagirone (CT)
Di Luca – Mineo (CT)
Di Mosa – Niscemi (CL)
Di Naro – San Michele di Ganzaria (CT)
Di Pasquale – Caltagirone (CT)
Di Pasquale – Licodia Eubea (CT)
Di Pisa – Caltagirone (CT)
Di Sano – Agira (EN)
Di Vita – Niscemi (CL)
Dragotta – Caltagirone (CT)
F
Falcone – Licodia Eubea (CT)
Ferlito – Mazzarino (CL)
Ficarra – Piazza Armerina (EN)
Fiduccia – Giarratana (RG)
G
Gianninoto – Licodia Eubea (CT)
Giaquinta – Caltagirone (CT)
Grasso – Aidone (EN)
Gulino – Caltagirone (CT)
I
Ingraci – Gela (CL)
L
La Iacona – Chiaramonte Gulfi (RG)
La Iacona – Ragusa
La Motta – Grammichele (CT)
Lauria – Niscemi (CL)
Licandro – Piazza Armerina (EN)
Lentini – San Michele di Ganzaria (CT)
Lo Castro – Gela (CL)
Lo Greco – Licodia Eubea (CT)
Lo Menzo – Piazza Armerina (EN)
Longo – Caltagirone (CT)
Lo Stuto – Licodia Eubea (CT)
Lumia – San Michele di Ganzaria (CT)
M
Macino – Mineo (CT)
Malerba – Comiso (RG)
Mancino – Mazzarino (CL)
Mangiapane – Caltagirone (CT)
Mangiuni – Niscemi (CL)
Manolfo – Caltagirone (CT)
Mantello – Caltagirone (CT)
Marino – Agira (EN)
Marta – Grammichele (CT)
Martelluzzo – Grammichele (CT)
Martino – Caltagirone (CT)
Mauceri – Barrafranca (EN)
Merendino – Niscemi (CL)
Migliore – Caltagirone (CT)
Milazzo – Piazza Armerina (EN)
Militello – Caltagirone (CT)
Mineo – Aidone (EN)
Miraglia – Ravanusa (AG)
Modica – Piazza Armerina (EN)
Morana – Comiso (RG)
Mortillaro – Caltagirone (CT)
Munciubi – Mineo (CT)
N
Nigito – Gela (CL)
P
Pardo – Comiso (RG)
Pedisacro – Caltagirone (CT)
Petrolo – Caltagirone (CT)
Petta – Licodia Eubea (CT)
Piazza – Caltagirone (CT)
Pirrunello – Caltagirone (CT)
Pità – Aidone (EN)
Pittà – Niscemi (CL)
Policino – Niscemi (CL)
Polizzi – Licodia Eubea (CT)
Portalone – Grammichele (CT)
Prestipino – Savoca (ME)
R
Rizza – Caltagirone (CT)
Rizzo – Buccheri (SR)
Romano – Caltagirone (CT)
Runza – Piazza Armerina (EN)
S
San Marco – Piazza Armerina (EN)
Seminara – Aidone (EN)
Siciliano – Aidone (EN)
Siciliano – Niscemi (CL)
Spatola – Grammichele (CT)
Sperlinga – Caltagirone (CT)
Sutera – Nicosia (EN)
T
Tamburino – Mineo (CT)
Tortorici – Comiso (RG)
Traina – Aidone (EN)
V
Venenato – Gela (CL)
Ventimiglia – Grammichele (CT)
Verdiano – Comiso (RG)
Vicino – Aidone (EN)
Vinci – Caltagirone (CT)
Vinci – Comiso (RG)
Z
Zafferana – Licata (AG)
Zapino – Caltagirone (CT)